Dear OMF Friends,
I am just home from an inspiring and hope-filled experience at this year's Invest in ME Conference in the UK.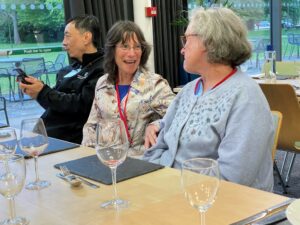 What a special opportunity to meet those of you who joined us!
For those of you who could not make it out to the UK, there is another opportunity to learn from leading ME/CFS researchers at this year's IACFS/ME 2023 Clinical and Scientific Conference. The conference is taking place from July 27th to July 29th at Stony Brook University in Stony Brook, New York. Our team would be delighted to meet you in-person if you can make it.
The IACFS/ME 2023 Clinical and Scientific Conference serves as an exceptional platform for researchers, clinicians, healthcare professionals, patients, and advocates to gather and share their ME/CFS expertise and insights. The conference will feature engaging presentations, interactive workshops, and thought-provoking discussions on the latest advancements in diagnosis, treatment, and patient care. You will have the opportunity to network with world-renowned experts and contribute to the ongoing efforts aimed at improving the lives of individuals affected by ME/CFS.
The IACFS website has all the information you need to decide if this conference would be meaningful to you. Register here before July 2 for a reduced rate! As a member of OMF's global community, we would be honored if you stopped by the OMF table to say hello to me and our Chief Development Officer, Jill Payne. If you plan to attend, please reply to this message so we can be on the lookout for you while we're there. We hope to see you soon! 
With hope for all,

Linda Tannenbaum