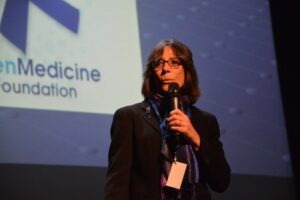 Today, for the first time, I visited Belgium. What a beautiful country with wonderful medieval towns. My husband Don accompanied me to a conference hosted by Wake Up Call Beweging. 55 people, mostly patients and parents, attended the event. Some of these parents have very young children. Their personal stories touch me deeply, and I can sincerely relate to them as a parent of a sick daughter.
Gunther De Bock, who helped to organize my visit, introduced Wake Up Call Beweging first and presented an overview of the current ME / CFS situation in Belgium. He reported that there are about 30,000 registered patients, which is probably only the tip of the iceberg.  Of the 30,000 patients, only about 5,000 receive disability benefits. Patients face the same problems with credibility, proper healthcare services, and a growing frustration of nothing being done to help them just like in so many other countries. Gunther officially opened the conference by playing an ME / CFS documentary that had been shown on Belgium national TV 20 years ago. We were all shocked that all these years later, Belgian patients still face so many difficulties despite the advocacy work of patient organizations in this country. As Belgium is the seat of the European Union, this was very painful to hear. Gunther underscored in his speech that he believes that organizations like OMF will change the narrative for patients and that answers on a research level will inspire governments and doctors to finally listen and take action.
During my speech, I emphasized that my husband Don and I started OMF to uniquely fast-track research, to open the dialogue between ME / CFS researchers, and to encourage openly sharing data. I also stressed that both Dr. Davis and I are on a path for a cure. We see the "parents' movement" we are building with OMF as a priority because we believe the passion of parents is the key to advancing research and government.  Dr. Davis, Don, and I deeply feel the frustration of patients and parents that things have moved too slowly. We are determined to change that.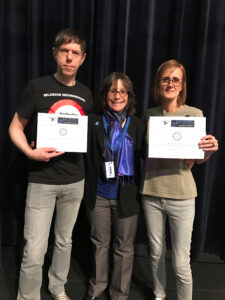 I was very honored to award Els Crick and Gunther De Bock from Wake Up Call Beweging our OMF Certificate of Appreciation for their incredible work in ME / CFS, and for coordinating this event.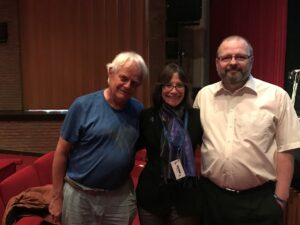 Don and I spent time with our Dutch friend, Rob Wijbenga and his Belgian colleague, Eddy Keuninckx. They attended the event to report on behalf of the ME Global Chronicle. It was really nice to be able to catch up with them. On behalf of the ME / CFS community, I want to thank them both for all that they do with the Chronicle and for patients around the globe.
After the Belgium conference, our hosts organized an intimate fundraising dinner where Don and I were able to spend time with 20 patients and enjoy some great Belgian food and drinks.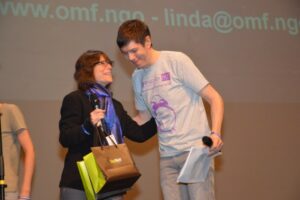 We left Antwerp with a warm feeling. All our hosts have been so incredibly welcoming, well organized, and supportive since we launched our Tour of Hope in January. We thank Gunther, Els and all their colleagues for this incredible event. We thank you for the Belgian pralines we were given as a farewell gift. I am afraid that these chocolates won't make it all the way to Norway. My next talk is in Oslo. These are way too good not to finish them by Monday!
Thank you to those we have already visited for all of the heartfelt email comments OMF is receiving in response to our Tour and visit at the IiME in London: "Dear Dr. Davis, you are bringing a ray of hope to the hopeless. I pray you find answers. I pray the world finally wakes up to this devastating disease" and, "It's so fantastic to see all of you together! We have hope for the future! Thank God!"
With shared hope for all,