#TripleGivingTuesday Ambassador Spotlight:
A conversation with best-selling author and person with ME/CFS, Karin Alvtegen
OMF Ambassador Karin Alvtegen is celebrated as one of Scandinavia's most widely read and appreciated authors. With her talent recognized around the globe, her bestselling books have been translated into more than 35 different languages.
By 2013, Karin was rising as an international sensation, embarking on book tours, and looking forward to an exciting future. However, this all came to a sudden and devastating halt. What started as a flu and respiratory infection developed into Myalgic Encephalomyelitis / Chronic Fatigue Syndrome (ME/CFS). Karin has since been forced to put her writing career — and life — on hold indefinitely.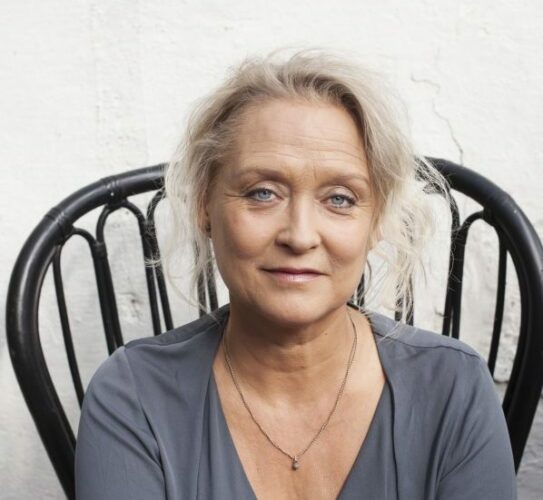 In celebration of our #TripleGivingTuesday campaign, she speaks up as an OMF Ambassador to educate others, spread awareness, and advocate for improved healthcare for all those living with ME/CFS. OMF is honored to share with you this new illuminating interview with Karin. 
How has life been for you and your family during the pandemic?
I am, for the most part, homebound, even without a pandemic. The difference has been the total isolation since no one could visit. I've been amazed by how difficult the COVID restrictions have been for so many people, even though they know it's for a limited time. For many of us with ME/CFS, the isolation and restrictions continue year in and year out — with no end in sight. So, to answer the question – no significant difference for me, pandemic or not. 
For those who may be unfamiliar with you and your work – can you explain a little bit about your personal experience with ME/CFS? When did you first fall ill, and how long did it take to receive a diagnosis?
I fell ill with ME/CFS  in 2013 after a flu with a subsequent respiratory infection. For me, it started with a low heart rate and low blood pressure, which gave me shortness of breath. Since then, more and more symptoms have appeared, and the disease has so far developed progressively. Initially, I saw a large number of doctors and specialists and underwent numerous examinations. None of them knew about ME/CFS. The symptoms were, despite my protests, written off as related to stress, and I was encouraged to take walks and gradually increase my activity.
It took four years before I was correctly diagnosed with ME/CFS at two ME-specialist clinics in Sweden. At that time, I was already using a wheelchair when outside. I have gradually reduced my life to an absolute minimum. Today I can be upright for a few hours spread over the day. However, I am fortunate to have a wonderful husband, a supportive family, and some faithful friends who, despite my limitations, continue to keep in contact. I no longer dream of being able to write books. But I will never stop dreaming of being able to take a walk.
Reflecting upon your wonderfully successful writing career, what accomplishments have made you most proud?
When I became ill with ME/CFS, I was one of Sweden's most-read authors, and my crime novels have been translated into more than 35 languages. "Missing" was awarded the premier Nordic crime-writing prize, the Glass Key award, and later nominated for an Edgar Award in the U.S. by the Mystery Writers of America. It was also adapted into a television miniseries in the U.K., directed by Ian Madden. 
Two of my other novels," Shame" and" Shadow," were shortlisted for the Crime Writers' Associations award in the U.K. Last year "Betrayal" was adapted to the film "Les Apparences" in France, by director Marc Fitoussi, with Karin Viard and Benjamin Biolay in its cast. My personal favorite is" Shadow." Today I'm even happier with my books than before falling ill. My books still travel, living out in the world, despite my being no longer able to.
Since becoming ill, you have been a remarkable advocate for people with ME/CFS around the globe. What is one thing you most hope to accomplish through your advocacy efforts? 
It was important for me to use my fame to help spread information about ME/CFS. My own experience of being disbelieved and neglected by doctors has been both shocking and very shattering. We live in the south of Sweden and haven't been able to find a doctor with knowledge about ME/CFS in this region. It's terrifying being this sick, knowing there's nowhere we can get help when I'm at my worst. Being looked upon with disbelief is humiliating, and nowadays, I only seek medical help for other illnesses, and only if it's totally necessary.
You have been the subject of a book on ME / CFS (in Swedish) titled "Invisible ill – while life passes," which included a chapter by Scientific Advisory Board member Jonas Bergquist. How did this project begin?
I took the initiative on the book since I felt the obligation to do all I could to change the situation for people with ME/CFS and their families, hoping patients will never again be mistreated or distrusted. I can't write myself anymore, so my husband and I invited the famous author/journalist Karin Thunberg to stay with us to describe how ME/CFS truly affects our families' lives. You have to be around this illness 24-7 to understand. It's unbelievable and deeply troubling that the knowledge about ME/CFS is so limited, despite so many being affected worldwide. Someday, and I hope it will be soon, the treatment of ME/CFS patients will be looked upon as a true medical scandal.
What gives you the most hope for the future? 
Research, research, research! My optimism has risen during the pandemic since Long COVID will affect so many people and therefore will force all governments worldwide to FINALLY act! I'm so proud of being an OMF Ambassador and so grateful for all their hard work.
Please join Karin Alvtegen and our global network of supporters by donating to OMF-funded research in support of treatments or a cure. Your gift, of any amount, will be TRIPLED from now until November 30! Don't miss out on this exciting opportunity to have triple the impact on the lives of people with ME/CFS around the globe.