#TripleGivingTuesday Research Update:
OMF Funds New Treatment-Focused Project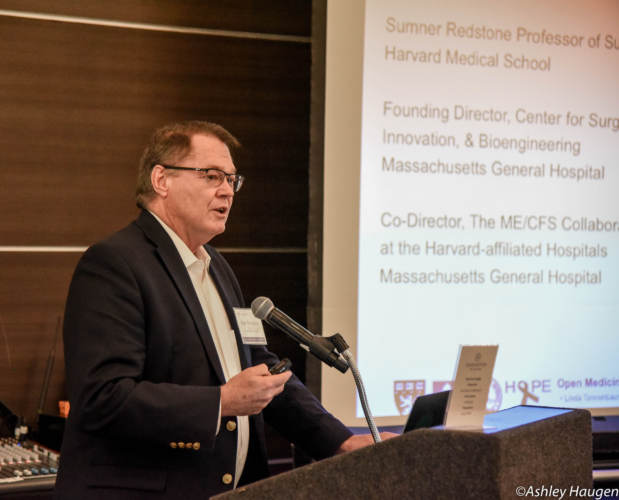 From the desk of Ronald Tompkins, MD, ScD
Chief Medical Officer, Open Medicine Foundation
As we reach the midway point of #TripleGivingTuesday, I'm thrilled to share with you the details of promising research at the Harvard ME/CFS Collaboration intended to open up an unprecedented treatment option to alleviate brain fog. 
"Brain fog" often makes an affected individual's life miserable and extremely challenging. To find interventions to reduce brain fog, identify neuroinflammation, and find out where specifically in the brain these problems begin, it's necessary to employ brain imaging of the highest quality.
In collaboration with Massachusetts General Hospital (MGH), our team at the Harvard Collaboration will use advanced neuroscience facilities at MGH for brain imaging of people with ME/CFS. Researchers expect to see microglial activation, or neuroinflammation, in those brain images. 
Additionally, a separate and distinct MGH study into microglial activation and treatment options for brain impairment will soon be released, resulting in a new treatment option for research and commercial use.
Those results add to our understanding of Brain Fog and, combined with the OMF-funded neuroinflammation study described above, open the door to potential treatment for people with ME/CFS.  If microglial activation is identified in the brains of people with ME/CFS, Harvard researchers would have a compelling and unprecedented "compassionate use" argument to launch a drug trial of medications used to treat other types of brain impairment.
Inflammation in the central nervous system (CNS) could significantly contribute to many neurological symptoms in ME/CFS, including non-restorative sleep, cognitive impairment, circadian rhythm disturbances, and sensory sensitivities. 
Strong evidence that would associate CNS inflammation with a collection of neurological symptoms would significantly facilitate our current understanding of ME/CFS neuropathology. This new knowledge would be particularly timely because the role of CNS inflammation has increasingly become recognized as critical in multiple other multi-system neurological diseases such as Alzheimer's Disease, Amyotrophic Lateral Sclerosis, Fibromyalgia, and Gulf War Illness. The focus to develop therapeutics for these neurological diseases will likely benefit people with ME/CFS.  
Cognitive impairment or "brain fog" is one of the primary symptoms of these diseases. ME/CFS often displays these neurological symptoms within the context of a chronic, low-grade, systemic inflammation that appears to involve the CNS. 
We intend to evaluate ME/CFS patients and healthy subjects to determine the presence of neuroinflammation. We will design a data collection protocol along with forms for clinical demographics, clinical test results, clinical data, imaging data, clinical outcomes, and biological data. These materials will be essential to prepare for a clinical research study and eventual treatment trial. 
*While OMF funds research projects at our six established Collaborative Research Centers, we are not typically involved in the research process and cannot introduce constituents to researchers. CRCs are not able to respond to inquiries from the general public. When OMF seeks participants in any data gathering research project, we will email those requests to our entire community. *
Now is the time to support these historic research efforts. When you donate to OMF between now and November 30, your gift will be TRIPLE matched!