OMF & Patient-Led Research Collaborative
Pioneering Progress for ME/CFS and Long COVID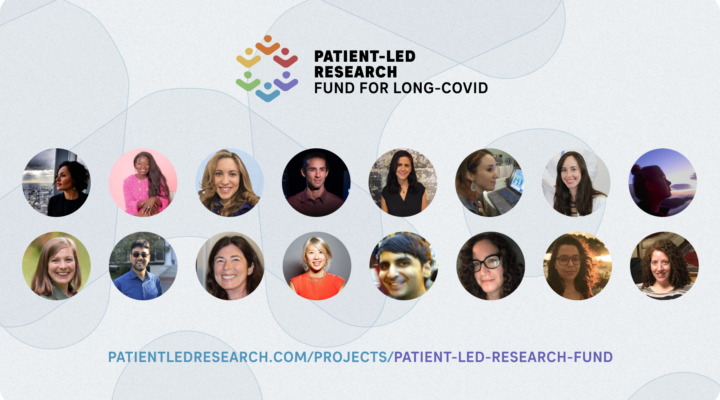 Open Medicine Foundation (OMF) is dedicated to finding diagnostic tools, treatments, and a cure for ME/CFS and related multi-system chronic complex diseases (msCCDs). Our current Long COVID and ME/CFS research is providing us with valuable insights into post-infection disease. We hope to use this knowledge to find solutions for all those affected by these debilitating illnesses.
In late 2022, OMF was honored to be awarded with three research grants from Patient Led Research Collaborative (PLRC). These research projects will investigate three key areas: sleep, drug repurposing, and multi-omics of ME/CFS and Long COVID. 
These studies will provide further understanding of the complex mechanisms underlying these diseases and may help us identify new treatment options.
Who is the Patient-Led Research Collaborative (PLRC)?
The Patient-Led Research Collaborative is a group of Long COVID patients who are also researchers of their own condition. Born out of the Body Politic support group, PLRC published the first research on Long COVID in April 2020. Since then, the collaborative has published peer-reviewed papers in the Lancet and Nature, as well as working with the CDC, WHO and NIH.
The group is composed of researchers and patient advocates in relevant fields such as biomedical research, participatory research, neuroscience, cognitive science, public policy, machine learning, and health activism. Through expertise in their field and personal experiences with Long COVID guided by ME/CFS and associated conditions, PLRC has been co-designing research for patients, by patients — all while following rigorous methodology.
OMF & PLRC- Funding to Pilot Research Discoveries!
At the end of last year, the Patient-Led Research Collaborative announced $4.8 million in biomedical research awards for Long COVID and associated conditions such as ME/CFS and dysautonomia. This innovative model of funding research was led by a panel of patient experts who set research priorities and chose studies to be funded. The grant for the Patient-Led Research Fund was donated by Balvi, a philanthropic fund whose big vision put significant investment towards COVID research.
Our OMF supported Collaborative Research Centers were generously awarded a portion of the funding for the following studies:
Characterizing non-restorative sleep in post-viral disease to advance intervention innovations

 

Systems Biology Approaches to Uncovering Disease Mechanism and Drug Repurposing for Long COVID

Multi-omic approAches to Solve post-Acute COVID-19/SARS-CoV-2 Syndrome
Click here for more information on these studies!
---
We believe that the research projects funded by the Patient-Led Research Collaborative are groundbreaking initiatives that can help us better understand Long COVID, ME/CFS, and related diseases. These studies have the potential to pave the way for more effective treatment options and improved quality of life for those affected by these illnesses.
 
To further advance these efforts, we invite you to make a donation to OMF today. Your contribution, no matter the amount, can help us accelerate progress towards understanding and treating Long COVID, ME/CFS, and related diseases.