From the desk of Dr. Alain Moreau, PhD
Director of the Collaborative Research Center 
at the CHU Sainte-Justine/Université de Montréal
#TripleGivingTuesday Research Update
Promising Research Underway
at Montréal Research Center
I'm very pleased to share with you, a valued supporter of Open Medicine Foundation (OMF), an update from my team at the OMF funded ME/CFS Collaborative Research Center at Université de Montréal!
Developing a diagnostic tool and prognostic test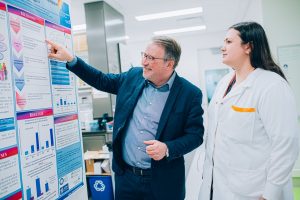 Our researchers are actively working to understand the molecular mechanisms that underlie ME/CFS. My team has developed an exciting new diagnostic test, which explores the molecular mechanisms and patterns that change during the early development of Post-Exertional Malaise (PEM) in severe ME/CFS patients.
This test, using a Hexoskin Smart Shirt to induce mild-but-reproducible PEM, has so far uncovered eleven different microRNAs associated with ME/CFS that are capable of differentiating ME/CFS patients from healthy patients — with a 90 percent accuracy! MicroRNAs can represent potential indicators for diseases such as ME/CFS, and changes in microRNA expression could indicate cellular dysfunction and degeneration. Our research could lead to the development of a diagnostic test for ME/CFS and a prognostic tool used to predict future cases. 
Studying the role of Thrombospondin-1 
Our team of experts is also actively working to understand the role of Thrombospondin-1 (TSP-1) in those with ME/CFS. An important biomarker, TSP-1 appears to be associated with changes in the patients' blood flow to the brain as evidenced in our discovery cohort. Elevated blood levels of TSP-1 have been associated with brain fog and memory impairment while reduced levels have been associated with orthostatic intolerance (symptoms that develop when standing but are relieved when reclining) and POTS (Postural Orthostatic Tachycardia Syndrome, a condition that affects circulation) in a group of severely ill ME/CFS patients. After validation in larger cohorts, if these findings are confirmed to be important in ME/CFS, then drug therapies can be developed in order to prevent or treat these severe symptoms in ME/CFS patients.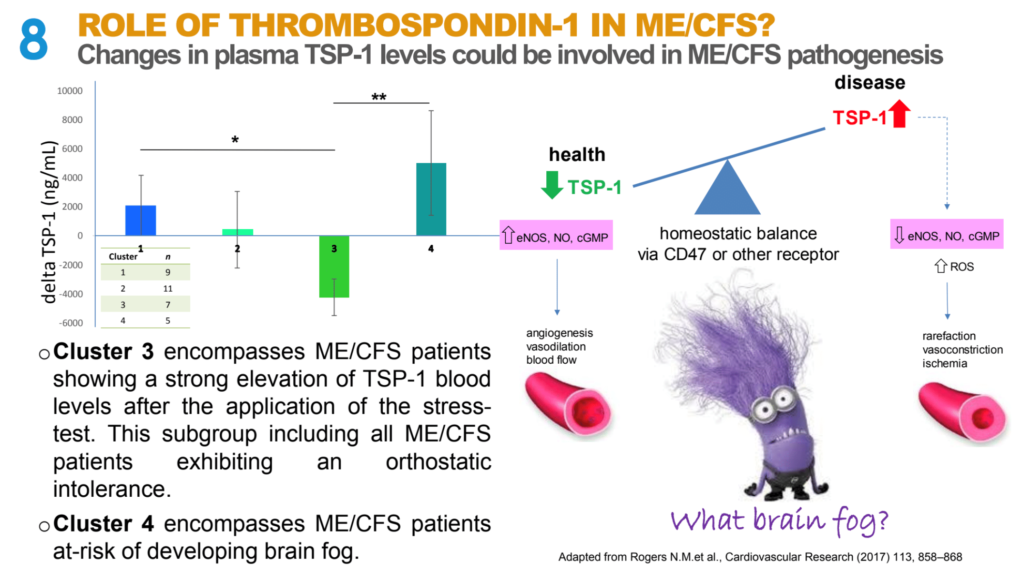 Click the image for more details about the studies
Understanding environmental and genetic influences 
Additionally, our team in Montréal seeks to understand how both environmental and genetic influences affect gene expression in the most complex diseases such as ME / CFS. In order to identify the most promising candidate genes, we are currently studying identical twins in which one twin has ME / CFS and the other twin does not, as well as multigenerational families that have many affected members.
These promising studies underway at the University of Montréal are, I believe, bringing us one step closer towards finding a diagnostic test, treatments and a cure for ME / CFS. But we need your help to accelerate this valuable research.
Please join me in supporting Open Medicine Foundation during their Triple Giving Tuesday campaign! When you donate between now and December 1, 2020, your gift will be TRIPLE matched by some very generous donors! That's triple the impact of accelerating the important research underway at OMF's five established research centers  — an international collaborative of scientists and clinicians focused solely on studying ME / CFS and related chronic, complex diseases.  
Join me in our quest to find a cure for ME/CFS!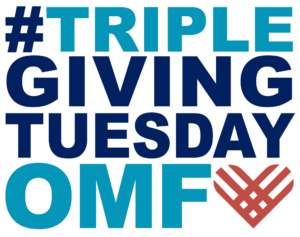 It's with your support that we're leading critical research and delivering hope for millions.