An Interview with Yas Crawford, Award Winning Artist, Scientist, and Person with ME/CFS
"When you're ill for a long time, your body takes over. Your brain wants to do one thing, and your body does something else."
These are the words of Yas Crawford, an artist, scientist, and person with ME/CFS, who is leveraging her experiences with chronic illness to create transformative art. In 2021, Yas's art received national recognition: Her piece, Cognition IX, was named the winning piece of the 2021 Art of Neuroscience competition held by the Netherlands Institute for Neuroscience, and her work was published in Scientific American.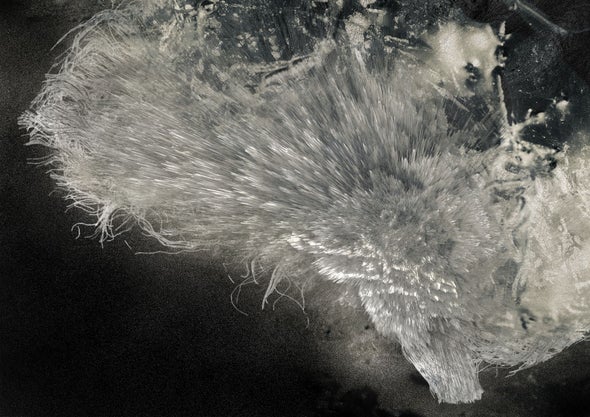 Crawford's unique work showcases the intersection between art and science. Cognition IX reflects the cognitive dysfunction often found in chronic illness. The series has been developed from various research sources including the Clinical Imaging and Sciences Centre in Brighton, following a trial on brain function of patients with post-exertional malaise (PEM). 
Her art, she says, is meant for others with chronic illnesses who resist being defined by them. Learn more about Yas Crawford's winning piece, Cognition IX, here. OMF is honored to share an exclusive interview with Yas, where she talks about life with ME/CFS, and what inspires her groundbreaking art installations: 
When were you first diagnosed with ME/CFS? What does daily life now look like living with this illness?
I contracted Dengue Fever in 2011 and never really recovered from the post-viral fatigue. Twelve months later, after lots of research, I started putting the puzzle together and realized I might have Myalgic Encephalomyelitis / Chronic Fatigue Syndrome (ME/CFS). Then in 2013, I was officially diagnosed with ME/CFS.
Each day, it's a mix of work and rest. Some days I am completely unable to do anything or think coherently. Thanks to pacing, I have been extremely lucky in the last two years and have seen much improvement.
What type of art do you create, and what inspires you to make it?
So far, I have focused on aspects of science that contribute to long-term illnesses. To help visualize my stories, I use various media such as illustration, digital and analog photography, and video. My work in microbiology, my degree and interest in Geology, and my lived experience of chronic illness all inform my work.
I am also working on commissions for medical journal covers and developing collaborations with other artists to document my stories in more depth. For example, I have just completed a cover image for the John Curtin School of Medicine in Canberra, which will be published next year. Also, more recently, I have collaborated with an Animation student from Tehran University of Art to animate my series of work 'Cellular Flow' for the Solo Exhibition in Barge, Turin, Italy.
Congratulations on winning the 2021 Art of Neuroscience competition! Can you tell us a bit about the winning piece, Cognition IX, and what prompted you to enter the competition?
My piece, 'Cognition IX', has been a way to express not just knowledge of what's subjective in science but a way to realize art at its best. It's an intuitive reaction to emotional and behavioral responses in the body often out of personal control. A heuristic response to lived experience and what's learned and left to the subconscious.
Has your artistic work helped you to cope with ME/CFS? If so, in what ways has it helped?
Absolutely. My artwork is a continuous therapeutic journey. When I work, it's a meditative practice, a place where I can be free, a safe place to reveal my experiences, feelings, and emotions without judgment and stigmas so often associated with these types of conditions. It's a space of unbelievable peace that I've previously not experienced in my life.
In 2017, as I started to recover and the ME/CFS relapses shortened, I completed a Master of Art in Photography, a flexible online program with Falmouth University. It was a huge struggle to begin with, and the first semester I cried every day, struggling to keep up. Only then did I realize that I had always carried a camera with me, just like someone might carry a book. I started to recall that I had always loved art, remembering I had spent every holiday in art galleries, photographing everything to capture its beauty. And so, a buried love of art and photography started to appear.
Ultimately, I hope my story will inspire others to keep pursuing their passions in whatever capacity possible, even if just in the smallest amounts.