The Jensen Family is all in for Triple Tuesday OMF. In honor of their son Ryan, they have invited their family, friends, and colleagues to donate to a special campaign in support of OMF's research. They hope to raise $33,333 and triple it to $100,000.  The Jensen Family is looking at many ways to support OMF and this is just one of them.
We are honored to share their Crowd Change post:
Hello friends! We need your help!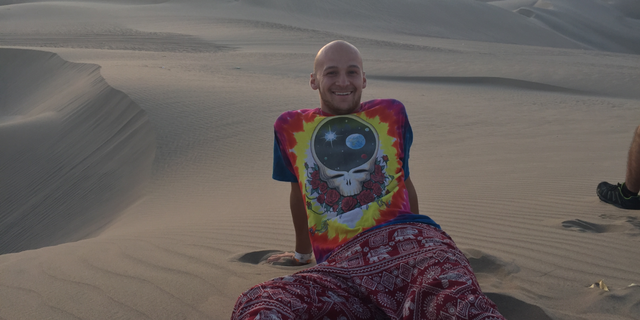 Ryan's story:
"On New Year's Eve 2017, I contracted a GI virus. As a healthy 23 year old, I didn't think much of it, until after a few weeks I realized I wasn't getting any better. Rather, I was getting worse, my daily life plagued by unrelenting fatigue impacting my ability to live life, joint and muscle pain, sensitivity to light and sound, dizziness, cognitive difficulties, sleep abnormalities including periods of insomnia and hypersomnia, and constant allergies which I'd never had before.
Throughout the next six months, my condition gradually worsened, first taking away my ability to run and exercise, then work, then do much of anything besides lounge around the house and rest. There are days where my condition is bad enough where even sitting up for more than a few minutes is exhausting.
After going through the medical ringer, I was diagnosed with Myalgic Encephalomyelitis / Chronic Fatigue Syndrome (ME / CFS); it was surreal. After months of looking for answers and holding on to hope that I'd be living a normal life in no time, I was told that I had a severe chronic disabling illness for which medicine could do nothing. My doctor told me to readjust my expectations of what life looks like, accept that I was seriously disabled, and to live life within these new limits.
It is extremely difficult waking up everyday and feeling sick; it's even harder to live with the knowledge that this is likely what my life will look like from here on out, unless something changes and real treatment is found. I cannot imagine living like this, or in even worse condition, as many patients do, for my entire life. That thought is too much."
If you would like to learn more, Ryan has written multiple blog posts detailing what life is like with ME / CFS. (http://ryanwhoop.com/2018/10/05/moving-forward/). You can also watch "Unrest", a 2017 full length documentary explaining the history, current medical understanding, and impact of ME / CFS, which is available to stream via Netflix.
About ME / CFS:
ME / CFS (Myalgic Encephalomyelitis / Chronic Fatigue Syndrome) is a devastating, life-altering, neuroimmune illness affecting up to 2.5 million Americans. While its impact is widespread and devastating, relatively little is known about the disease, no FDA approved treatments exist, and patients are left to deal with the illness with little help from the medical establishment, in many cases for decades. In the most severe cases, patients are left bedridden, unable to speak or eat, extremely sensitive to outside stimuli, and totally dependent on the full-time care of others.
Unfortunately, the disease still receives very little federal funding relative to its impact, instead needing to largely depend on private funding. Fortunately, there is now a committed community of scientists, doctors, and patients raising awareness and making great strides in finding treatments that bring ME / CFS patients some relief and hope for a normal life in the future. The Open Medicine Foundation, in particular, is making real headway.
The Open Medicine Foundation is led by an impressive Scientific Advisory Board that includes three Nobel Prize Laureates and six National Academy of Science members. OMF funds the ME / CFS Collaborative Research Center at Stanford University, an international leader in this field.
Our goal is to spread awareness of ME / CFS and raise $100,000 to support the Open Medicine Foundation. Contributions will fund research to uncover the underlying pathophysiology of ME / CFS and develop treatments for the disease, potentially even a cure, giving real hope to those who suffer with ME / CFS that the future is brighter than it appears.
All donations made to OMF through November 27, 2018 will be tripled by an anonymous donor! Donations are fully tax deductible and 100% of proceeds will go to OMF to fund research to better understand symptoms and causes of ME / CFS to potentially identify treatments and a cure.
Thank you in advance for your support, and your willingness to make a difference in the lives of ME / CFS patients!
The Jensen Family