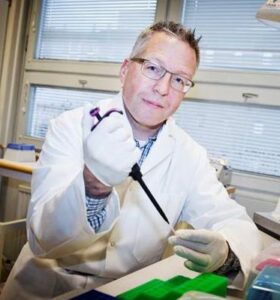 The newest OMF-funded ME / CFS Collaborative Research Center is at Uppsala University in Sweden. Led by Jonas Bergquist, MD, PhD, the Center is working in collaboration with the OMF-funded Collaborative Centers at Stanford University and Harvard-Affiliated Hospitals and is actively bringing in new European collaborators. The ME / CFS Collaborative Research Center at Uppsala University is focused on the targeted molecular diagnosis of ME / CFS with the goal of evidence-based strategies for interventions.
"One can start to tie biology, chemistry, neurophysiology and neurochemistry to these symptoms, which is a very important and an important introductory step before a potential treatment and possibly a cure," said Dr. Bergquist.
Dr. Bergquist and his team are researching neuroinflammation through imaging and searching for biomarkers in the fluid that surrounds the brain and spinal cord (cerebrospinal fluid). The Uppsala ME / CFS Collaborative Research Center is currently working on the targeted analysis of hormone levels in ME / CFS patients to determine dysregulation, the measure of trace elements and metals in ME / CFS patients that may be relevant to the disease severity in individuals, and the development of technologies to create a mechanism for more patients to be able to provide blood samples to participate in research even remotely.
Working in collaboration with Dr. Carmen Scheibenbogen (Charité-Universitätsmedizin Berlin in Germany), Dr. Bergquist has found that 70% of ME / CFS patients show autoantibodies to beta-adrenergic and muscarinic receptors. Dr. Bergquist's research is following up on these early findings to determine the mechanism behind the production of these autoantibodies.
Support OMF-funded research and donate today to triple your impact.
TRIPLE YOUR DONATION TODAY