With the broadcast of Unrest on the US PBS/Independent Lens coming January 8th, now is your opportunity to share the film with friends, colleagues, and family members that don't know much about ME / CFS or want to know what else they can do! This is a great way to get more folks to inspired to support OMF's research!
Time for Unrest campaign is launching 10 DAYS of HOUSE PARTIES around the PBS broadcast and we are right beside them! We would love to host HOUSE PARTIES throughout the US and in 90 countries around the world.
Between January 5th – 14th, we need as many people as possible to host a small screening of Unrest in your home to educate more people in your inner circles about ME / CFS – and inspire them to take action with us! You can use your house party get people involved! Inspire action. Sign up here to get started!
In the US, Unrest will appear on PBS/Independent Lens on January 8th 7PST/10EST – and will be available to stream for free on the PBS website from January 9th. For US and International, there multiple other ways for you to get a copy of the film to screen [digital platform and DVD/Blu-ray].
What is a house party? It's simply a watch party at your home where you can provide more information about ME / CFS and invite others to join you and support OMF's research. Hosting a house party is so simple! It can be as big or as small as you like (two people or twenty!) and you can hold the event without even leaving your home. OMF and the Time for Unrest campaign will be there for you, helping you through each step of the process! All of the materials you will need like a suggested script, FAQ and activity flyer will be provided for you.
You don't have to know your date, just sign up today and OMF and Time for Unrest will help you get started on a plan!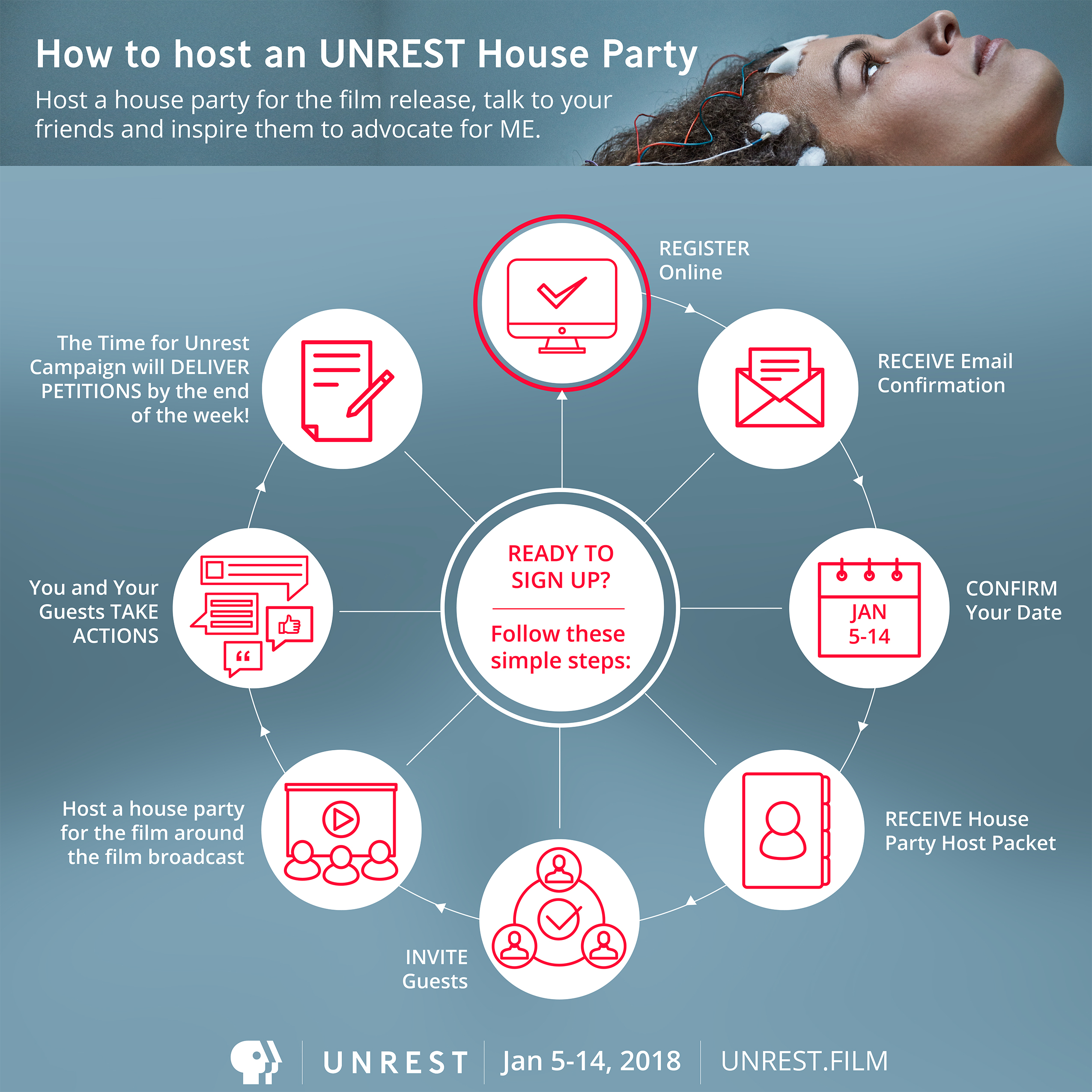 Tell your story. Start a Crowdchange campaign and invite your family and friends to join you in supporting research and spreading awareness. Learn more about how simple Crowdchange campaigns are here.
Let's see which State in the US and which Country abroad can host the most HOUSE PARTIES. Let's get people talking and supporting research!
We are here to help you in any way. If you have any questions, please email us at info@omf.ngo
Register for your HOUSE PARTY today!
Let's work together to spread awareness and support research to improve the lives for everyone living with ME / CFS.
It's #TimeforUnrest. #EndMECFS