Riding to Raise Awareness:
A Sister's Fight to End ME / CFS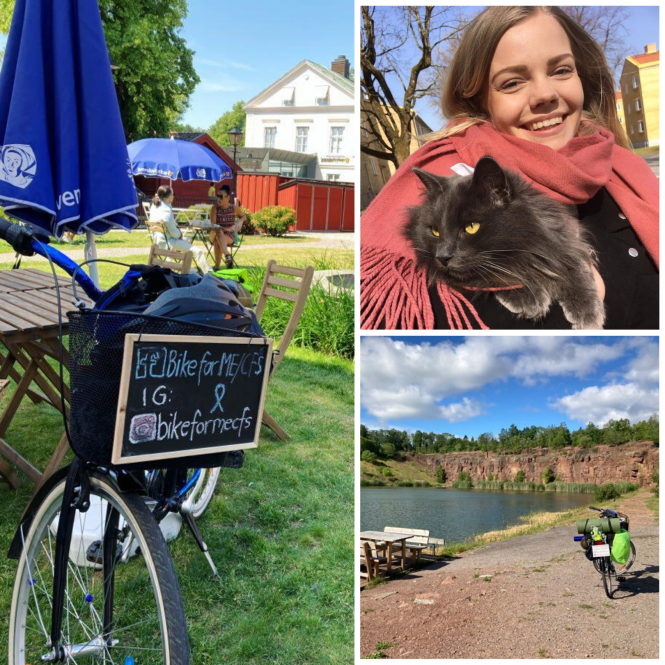 Biking from coast to coast of any country is a significant journey. Although the stunning backdrop of Sweden's coastline may be enough to inspire the ride, the motive for Swedish OMF supporter Olivia goes much deeper; Olivia's sister Clara has Myalgic Encephalomyelitis/ Chronic Fatigue Syndrome (ME / CFS) and has been bedridden for the majority of the past year and a half.
Through the family's grief, Olivia decided to take action to fight for her sister and the millions of others who suffer from ME / CFS around the globe. This past June, Olivia launched "Bike for ME / CFS," an ambitious campaign in honor of Clara.
"Clara recently sold her bike to me since she can no longer use it," Olivia explains. "I'm now riding it from the east coast of Sweden where she lives back to the west coast where I live. Along my journey, I try to raise awareness of ME / CFS and collect money for OMF funded research. To help people understand, I present facts about ME and share personal experiences of my sister and others suffering from the disease."
Olivia has so far ridden for nearly 250 miles, capturing the hearts of many along the way. Bike for ME / CFS has been featured in local papers and radio shows, giving people with ME / CFS in Sweden and beyond visibility, inspiring further funding into research of the disease.
Thanks to her hard work and dedication to the cause, Olivia has already raised more than $1,800 in support of OMF funded research! But she's not stopping there.
"I'm planning on doing more trips in the future," she says.
We'd like to thank Olivia for riding to raise awareness and sharing her touching story of sibling love with the world.
With allies like Olivia on our team, we can further our mission to end ME / CFS — so that one day people like Clara can bike with her sister again.
You can virtually join Olivia on her journey by following
Bike for ME / CFS on Facebook or Instagram.
---
"Team Walk with ME" Completes 24-Hour Hike
Raises Funds and Awareness for ME / CFS
This past June, the Swedish ME / CFS advocacy team known as, "Walk with ME – ett Fotrallylag," completed a successful 24-hour hike to raise awareness of ME / CFS and funds for OMF-supported research. Thanks to their advocacy and hard work, they've raised over $3,300!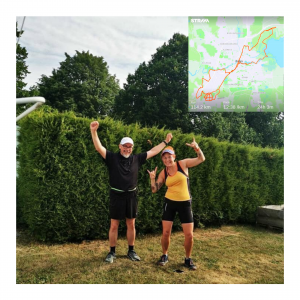 Team Walk with ME's founder Magnus Svensson said of the emotional journey:
"24 hours and just over 114 km. New acquaintances have been made. Friendships have been strengthened. Tears of joy and pain have fallen and dried."
Magnus is passionate about raising money for research in honor of his wife, who suffers from ME / CFS.
He says the idea behind a 24-hour walkathon is "not to equate the pain and exhaustion of a 'long walk' with that of ME / CFS. You can't. I can always choose not to go for a long walk-then I wouldn't have to be exhausted or in severe pain.
"With ME / CFS, you can't choose. The patients live with pain and exhaustion around the clock. I want to inform others about ME / CFS and raise money for OMF's biomedical research."
The tireless dedication of Team Walk With ME captures the true strength and spirit of family members, caregivers, and allies of people with ME / CFS. Their commitment to the cause helps inspire change and raise awareness for people with ME / CFS and related chronic and complex diseases. Thank you to the team – we couldn't do this work without you!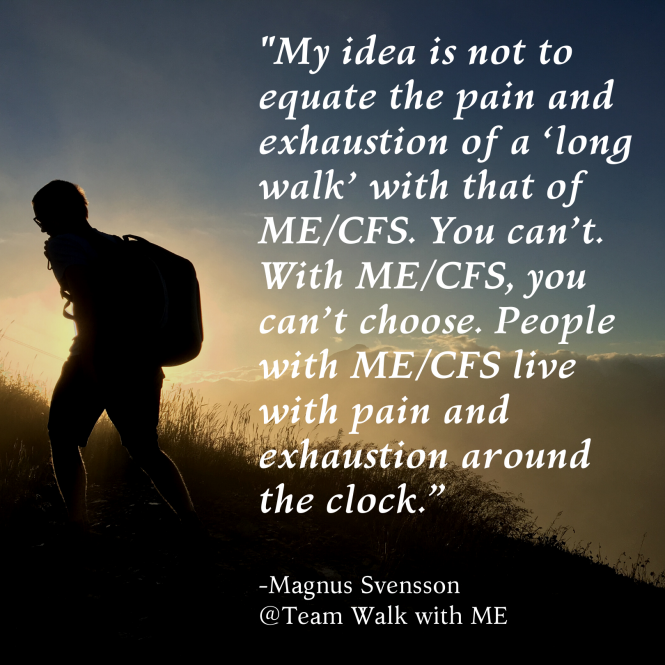 You can stay connected with Team Walk with ME by following them on Instagram, Facebook, or visiting Magnus's website: https://mylongwalkforme.se/
---
OMF Ambassador Jacqueline Ko
Celebrates her Birthday with a Fundraiser
In honor of OMF Celebrity Ambassador Jacqueline Ko's recent birthday, we'd like to spotlight the advocacy work of Opera Mariposa, a Canadian organization co-founded by Jacqueline with an extraordinary mission in mind.
Opera Mariposa was founded in 2012 by Jacqueline Ko and childhood best friend Robin Hahn. The Vancouver-based company provides a unique platform that showcases and nurtures the emerging talent of local and international artists.
Not only is Opera Mariposa committed to supporting the arts, it is also Canada's only entirely disability-led and disability-run opera company. The team at Opera Mariposa says, "We're particularly dedicated to increasing visibility and representation for artists with disabilities, and our work was featured in the book 'Lighting Up a Hidden World: CFS and ME' by Valerie Free."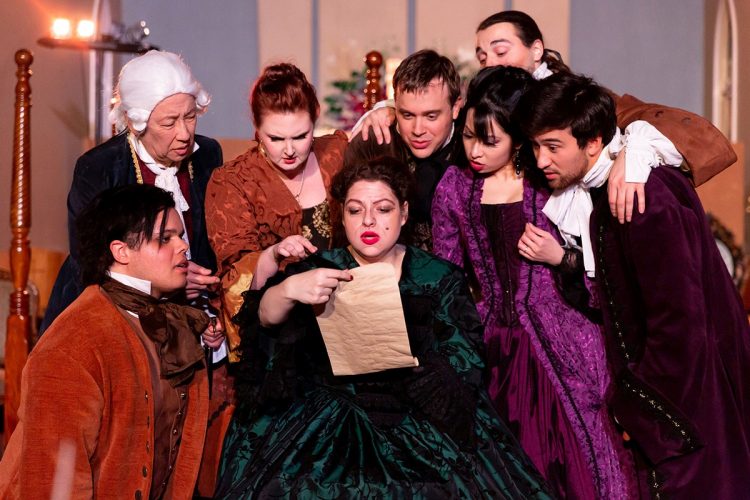 For Jacqueline, the fight to raise awareness of ME / CFS and funds for research is personal: Both she and her sister, Stephanie, suffer from ME / CFS.
Bed-bound from the disease for a large portion of her childhood, Jacqueline has become determined to merge her love of music with advocacy.
At age 17, Jacqueline presented her first Benefit + Awareness concert for ME / CFS. A decade later, Opera Mariposa's annual Benefit + Awareness events have raised over $90,000 for ME / CFS treatment, research, education, and patient support.
For her birthday this year, Jacqueline has generously kicked off a Facebook fundraiser for OMF Canada. She explains that it's especially critical to fund research of ME / CFS during the COVID-19 pandemic:
"ME / CFS affects over 20 million people worldwide, including me and my sister Stephanie.

It is a critical health concern worldwide right now, since it's known to be triggered by viruses. Cases of ME / CFS have followed coronaviruses like SARS and MERS, and researchers estimate that as many as 10 percent of people with COVID-19 may go on to develop ME / CFS, as well."
Today we had the exciting opportunity to ask Jacqueline and her sister Stephanie a few questions about their lives, advocacy work, and hopes for the future.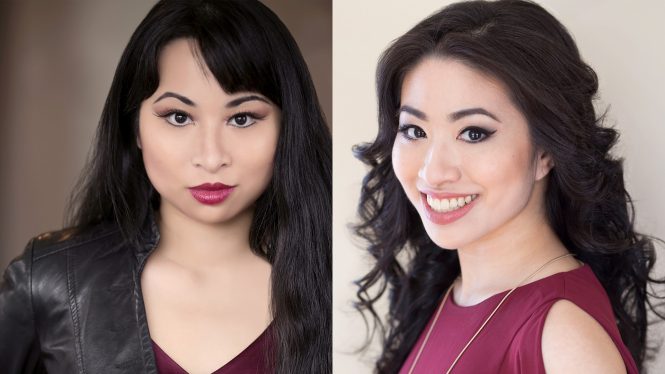 Both of you have ME / CFS. How has this impacted your relationship as sisters?
"It's probably made our relationship more balanced, actually – less of an older sister/younger sister dynamic, and more of a collaboration. We tend to pool our energy resources when we work on projects; we have different but complementary aptitudes and limitations because of our health, but also just as individuals, so it makes sense to undertake things as a joint effort."
What has Jacqueline been up to recently?
"We've just finished work on Opera Mariposa's eighth annual Benefit + Awareness event for ME / CFS and related illnesses, which due to COVID-19 was our first all-digital charity campaign. We're happy to say that we raised nearly $10,000 for at-risk patients and families in our local community, which brings Mariposa's charity fundraising total to over $90,000 to date. Now, Jacqui's mostly resting and recovering, as well as doing a bit of planning for future projects. She's also been checking out some new opera and theatre productions online, including holding a couple of virtual opera-watching parties with friends."
What gives you the most hope for the future?
"One of the most hopeful things for both of us right now is seeing the growing awareness of ME / CFS and other complex chronic diseases, and the way that's translating into action – such as through the vital work that OMF undertakes!"
OMF extends our sincere gratitude to Jacqueline and the entire team at Opera Mariposa.
We are proud to have OMF Celebrity Ambassadors like Jacqueline who use their talents to raise the voices of all who suffer from ME / CFS and related chronic and complex diseases.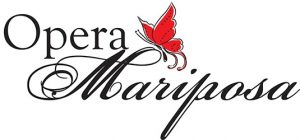 We ask our Canadian friends to consider giving the gift of hope
by supporting Jacqueline's fundraiser today.
You can also follow Opera Mariposa on Instagram, Facebook, Twitter, and YouTube, as well as via their newsletter to show support of their mission and to get the latest updates on their events and advocacy work.
Please Join Our Supporters and Advocates